---
May 18th, 2022
RENL bags 2021 ITF Best human resource development organization award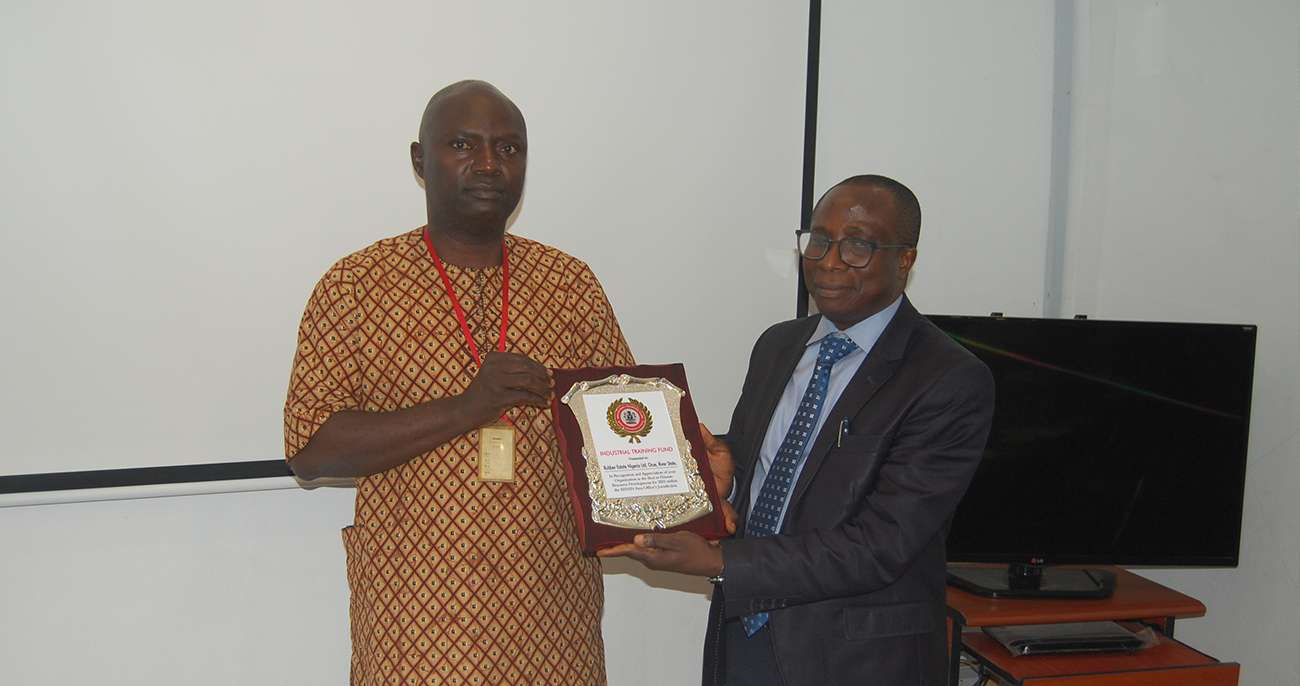 Management of Rubber Estates Nigeria Limited, on Wednesday 18th May 2022 received an award of honor as the Best Human Resource Development Organization for the year 2021 from the Industrial Training Fund (ITF) Benin Area office.
Speaking during the award presentation at the industrial premises of the Company, the Acting Area Manager ITF Benin Area Office, Bamidele Michael Oloje noted that management of the fund recognizes the role of Rubber Estates Nigeria Limited in the human capital development of its staff, particularly through the implementation of different categories of training programs in conjunction with the Benin Area office and other Human Resource Vendors (HRD).
He further mentioned that for the year 2021, ITF facilitated the training of 275 members of staff of the company in different categories of training ranging from middle level leadership workshop advanced excel (Computer training) and kitting for emergency response team workshop. He therefore seeks for more robust synergy between the two organizations.
Responding after the award presentation, the Executive Director Finance, Rubber Estates Nigeria Limited, Emmanuel Abana who represented the Managing Director of the Company, Olivier Odoukou noted that management of the Company recognizes training and re-training as key factor for corporate success. He mentioned that the critical challenge towards performance improvement remains the capability and speed of response to changes in the business environment through human capital development.
Emmanuel Abana further stated that RENL as key player in the Agricultural Sector in Nigeria, plants, harvest, process and export natural rubber. He said that RENL organizes in-plant training for its staff and that ITF has been a very good partner in achieving this.
While thanking for recognizing RENL with the award, he calls for more collaboration from the industrial fund especially in the reimbursement for oversea training of its staff.
Highpoint of the ceremony was the presentation of award and other paraphernalia to management of Rubber Estates Nigeria Limited.